2020
United Nations Campus
All points set to sustainability.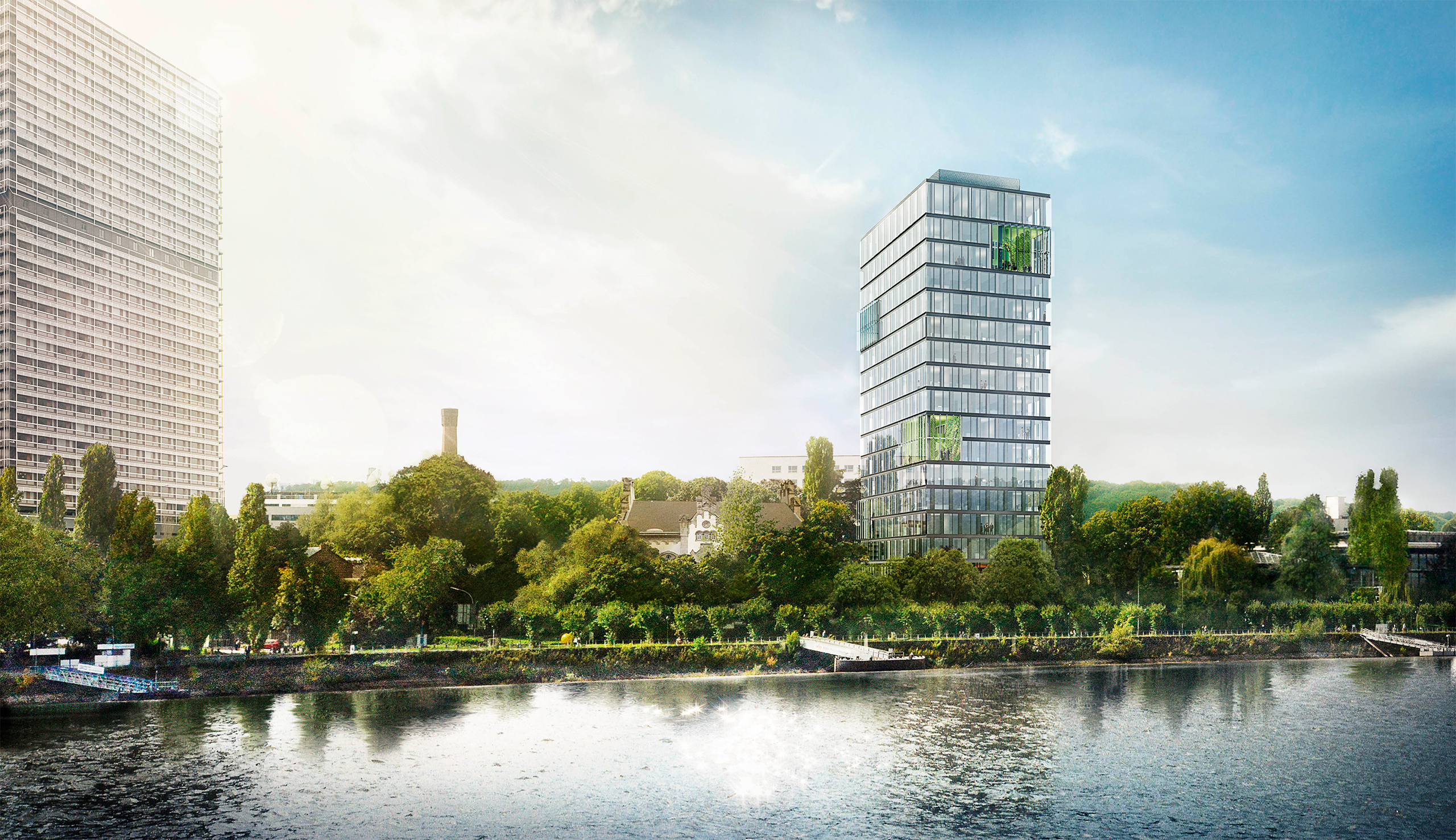 Project countryGermany
Project locationBonn
Architect Stefan Lippert Architekten
Structural engineerR&P Ruffert
Executing companyFritz Meyer
The UN Campus is situated between the former high-rise houses of parliament of the former German capital, Bonn ("Langer Eugen", or Long Eugene) and the World Conference Center Bonn (WCCB). The extensions, with 17 storeys and three basement levels, was conceived with 330 employees in mind. Due to the very limited surface area for a high-rise building, of just 680 m2, the planners kept the encroachment on nature and the environment to the absolute minimum.
The United Nations focuses very strongly on sustainability. The building was designed as a passive house, and the use of natural energy sources is evident from the integration of four excellent conservatories on different floors of the building. Despite the small surface area, 12,000 m2 of sustainably optimized usage areas were created.
Close to nature
Winter gardens? Four at once.
The regular slabs consist of widely spanned, reinforced concrete slabs, that stretch between a decentralized, bracing core and reinforced concrete columns around the edges. With the two visible columns in the centre, the bearing of the main weight is assured.
In order to build a lighter structure, the weight of the slabs could not have been too high. Therefore, the weight-optimizing voided flat plate slab systems from Cobiax came into play. To prevent the required building technology, for the air conditioning and utilities, from affecting the height and flexibility of the room usage, all of the cables and pipes were integrated into the Cobiax slabs.
Less concrete
Higher BNB assessment: The Gold Standard
Overall, thanks to the use of Cobiax technology, the fresh concrete requirements for this building could be reduced by about 240 m3; therefore, the campus was awarded the highest BNB assessment, Gold.
This meant a reduction in CO2 emissions, by about 50 tons, compared to conventional solid concrete construction; an aspect that certainly had an influence on the United Nations' decision to choose this building method.
---
Images: © Stefan Lippert Architekten
Product line used
Cobiax SL
The modular product line for international use, thanks to the half-shell technology. This line of products enables effective transport and easy assembly.
Learn more.
Wider Scopes as an obligation
Cobiax is more than just a brand. The catch phrase "Wider Scopes" extends far beyond the possibilities for modern slab technology. It is a commitment to providing more room for play for people, in the scopes and spaces in which they live and work.
Learn more
Brand
Products & Technology
Infos
Special pages