2021
Dreiländergalerie
Impossible without Cobiax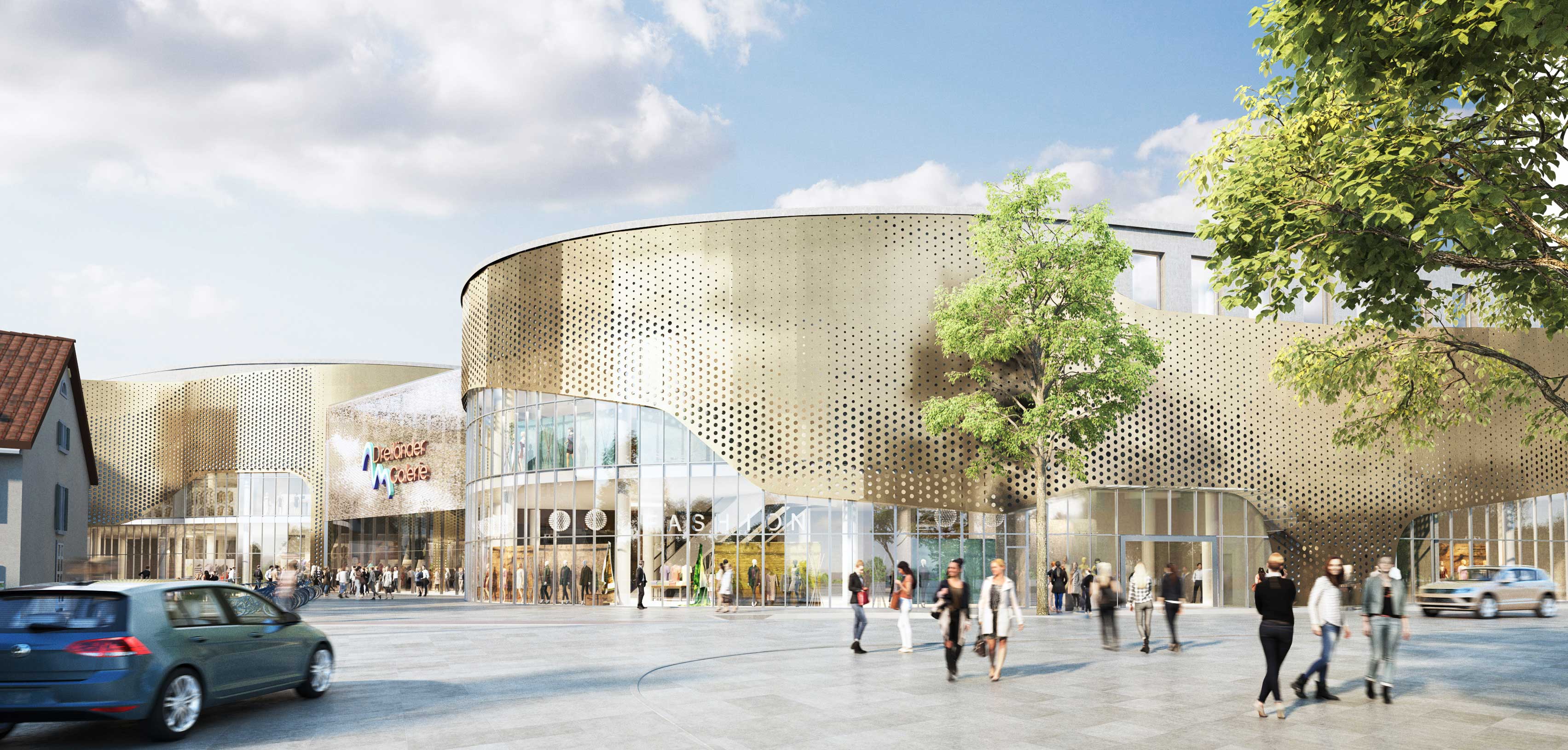 Project countryGermany
Project locationWeil am Rhein
Builder CEMAGG Weil am Rhein GmbH
Architect Heerdegen Architekten
Structural engineerAssmann Beraten + Planen GmbH / gbc engineers GmbH
Executing companyW.S. Gewerbebau GmbH
There are plans to add a floor to the Dreiländergalerie where the ground slopes at Weil to create more space for services. This increase in height just would not have been possible without the technology provided by Cobiax.
The people responsible for the new shopping, service and residential complex in Weil am Rhein are placing a great deal of emphasis on sustainability. Using the void former technology provided by Cobiax meant that they were able to make the most of two major benefits at the same time:
To start with, Cobiax made the planned increase in height possible in the first place. The foundations of the building have already been completed, but this does not include the additional floor. Therefore, to keep the weight of the extended building constant, from the second basement level, Cobiax void flat slabs will be installed. This approach will allow the engineers to save around 4,610 tonnes of weight.
Secondly, the Cobiax products are a perfect fit for the building's comprehensive sustainability planning. 385 tonnes of CO2 will be saved thanks to the total of 40,000 m2 of slabs that are using Cobiax void formers. 308 fewer concrete mixers need to make the trip to the building site. This alone saves the environment a considerable consumption of diesel fuel and the construction site management a noticeable reduction in construction site traffic.
The Dreiländergalerie is another fantastic example of the various opportunities Cobiax technology provides. And the most convincing thing is that this technology already exists and it has already been proven. While others are still using theories and tests to carry out research into a reliable increase in sustainability in the construction industry, Cobiax is already available and is ready to use immediately. Safety, sustainability and productivity should always be major factors.
---
Image: © Assmann Beraten + Planen GmbH
Product line used
Cobiax EL
Robust voided modules for large savings in terms of load and materials. The product line, Cobiax EL, was the first standardized and certified Cobiax product line. A traditional product line. Only available in Germany, or upon request. Follow-up product CLS available.
Learn more.
Cobiax SL
The modular product line for international use, thanks to the half-shell technology. This line of products enables effective transport and easy assembly.
Learn more.
Wider Scopes as an obligation
Cobiax is more than just a brand. The catch phrase "Wider Scopes" extends far beyond the possibilities for modern slab technology. It is a commitment to providing more room for play for people, in the scopes and spaces in which they live and work.
Learn more
Brand
Products & Technology
Infos
Special pages